Traffic Cones to draw caution where you need it most. Get work done.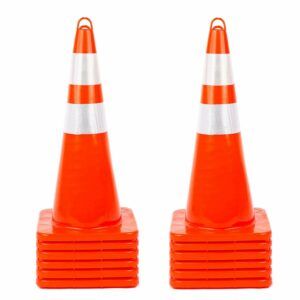 Perfect for road construction sites, parking lots, highway maintenance
Use for roadside emergencies, parking, safety and sports training
Create caution areas in your driveway or mark off safe places for kids to play
Bright orange color with highly reflective white collars
 Flexible, weighted and durable to withstand the weather
Traffic Cones Specs:
Made from premium pvc material
28″ x 13″ x 13″
Overlapping storage
Weight: 4 pounds each
Multiple quantities available
Thank you for visiting WorkingManGear.com No annoying ads. No email sign up. Just find what you're searching for.