Skid Steer Attachment Plate for the job site or the farm. Multiple uses to get work done.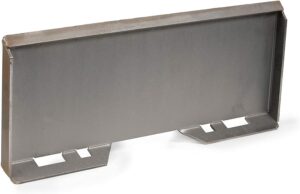 Superior design fits almost all skid steers, loaders, and tractors
Easily weld or bolt onto plows, forks, or other skid steer accessories
Perfect for the farm or construction site
Use for plowing snow, removing debris, or transporting scraps
Skid Steer Attachment Plate Specs:
Outside width: 46″  Inside width: 45″
Height: 18.5″
Weight: 95 pounds
Multiple thicknesses available
Thank you for visiting WorkingManGear.com. No annoying ads. No email sign up. Just find what you're searching for.